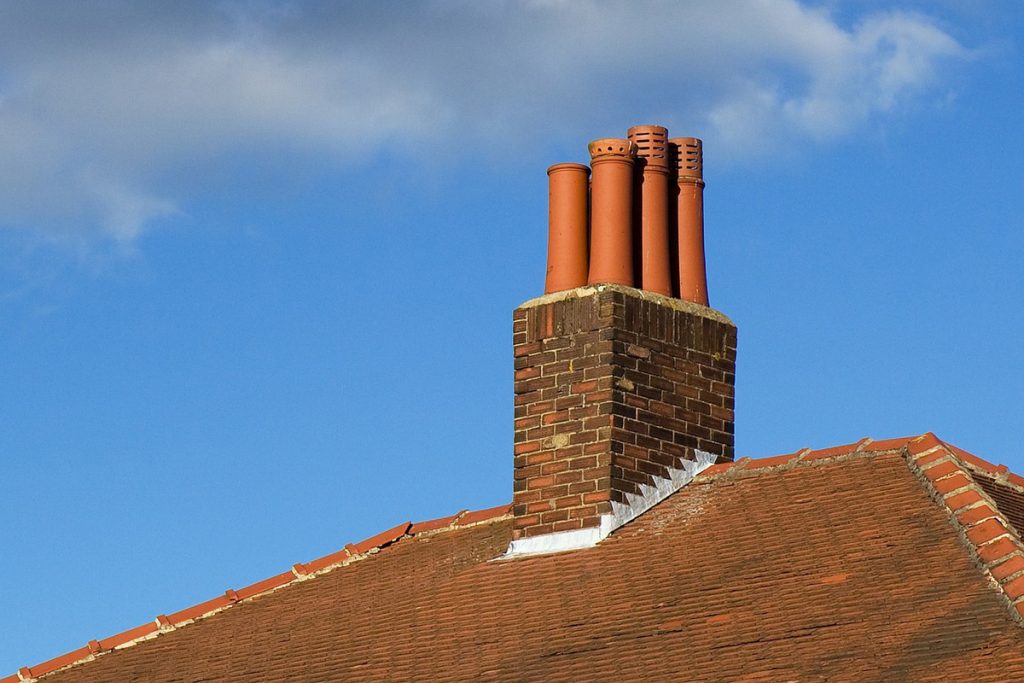 This is the first in our series of building surveying blogs looking at common building defects in period property a high proportion of which comprise the work of the residential building survey.   
This blog will look at the issue of chimney stacks in relation to the work of a building surveyor when undertaking a building survey report.
If we take a Victorian terraced house for example, there will normally be at least two or three chimney stacks, one to each of the roof slopes, normally to a party wall if it is a Victorian terrace, with a further stack likely to be party within the rear addition. There may well be one stack running across the ridge, rather than two stacks to each roof slope, and therefore in some instances three stacks will become two.
There are often cosmetic issues with chimney stacks such as deterioration of pointing, cracking to flaunching and uncapped chimney pots. Chimney stacks are of course very exposed and they often become weathered on one particular side, which can cause leaning to the stack where contraction and expansion of mortar joints occurs specifically on one side, normally say the western face which is subject to prevailing weather conditions. Largely, such issues are cosmetic unless the building surveyor states it is pronounced which would bring into question the stability of the stack.
Another issue building surveyors face with chimney stacks is around the roof and chimney junction where flashings may be defective or perished. Often when viewing inside the loft void, there will be damp staining to purlins or rafters in and around the position where the chimney stacks break through the roof structure. It is important building surveyors undertaking building surveys inspect closely the stacks from within the roof void.
However, although the above mentioned works are common to chimney stacks, one of the main issues for building surveyors when undertaking building surveys, is the removal of chimney breasts inside the building and the issue as to whether these are supported or not. It is very common for building surveyors to encounter the removal of chimney breasts and the most common removal of breasts occurs on the rear addition stack to the rear of the property as this often corresponds with the kitchen and modern kitchens have little need for open fires. Often, property owners want the additional space, maybe to say run kitchen units and thus the chimney breast is often removed.
The surveyor will need to check whether the chimney breasts run to ground, first and potentially second floors. If the chimney breast is not to the ground floor but is to the upper floors then it is likely that support will be needed between ground and first floor level. This is normally done by way of a steel.
Commonly, chimney breasts are removed to all living areas but can still be present in the loft space and, when this is the case, support will be needed. This is commonly by way of a steel, concrete lintel or a gallows bracket. However, DIY jobs often mean that actually the remaining stack is not adequately supported and this can be an extremely dangerous situation as an unsupported stack can be a significant danger and is often staying vertical only by its own weight.
This is a very common issue for building surveyors and it can be even more complex where the building survey is of a ground floor flat and no access to the upper floor flat is gained. In this case the building surveyor should use best endeavours to assess the verticality of the stack externally and request building regulation documentation and assess the same as part of the building survey.
Another issue building surveyors may face, rather less commonly, is a situation of condensation within the chimney breast where the chimney breast is not vented to room level when it is not in use. It could also be condensation within the breast when the breast is in use by way of water vapour in the combustion process. Condensation within a chimney breast can manifest itself with damp staining or patches on internal finishes or, in some cases, round sooty marks on the chimney breast.
RES Property Surveyors conduct detailed building surveys, which are undertaken by very experienced building surveyors and we would happily discuss any issues whether by way defect reports or building surveys. We undertake many such surveys on a daily basis for clients.
It should also be remembered, where the chimney breast/ stack is on a party wall, works to the party chimney stack will require a Party Wall Agreement. Furthermore, structural works to the chimney stack, such as removal or reduction, will require Building Regulation approval. Sadly, both elements of documentation are often lacking during the conveyancing process and purchasers are often tasked with having to take a view.
Our party wall team can assist with party wall matters.